Overview
Pokemon Unite is one of the latest entries to throw its hat in the ring with other multiplayer online battle arenas (MOBA) such as League of Legends, DotA 2, and more. Unite's stark simplicity against more complex MOBAs opens the gates to veterans and newcomers alike. However, there are hidden mechanics that aren't apparent to players during matches and a problem of oversimplifying aspects of the game.
An 'easier' game does not necessarily correlate to a shallower learning curve or being more enjoyable.
Winning becomes more of a coinflip when there's a lack of strategy or skill to differentiate players.
problem discovery
With player vs player (PvP) games, player mindsets range from competitive to a more casual approach - both equally important for the integrity of any game. As taught by Mark Rosewater,
fighting against human nature is a losing battle.
I've identified two overarching goals where Unite's UI and mechanics can provide better guidance for players to prioritize:
Scoring
The team who scores more points in the enemy team's goals wins the game.
Team coordination
On par for the course as a MOBA game, Unite designs every playable Pokemon to fill specific roles in a team-oriented capacity. Players that demonstrate better teamwork will generally be rewarded with success.
Proposed Designs
These are my proposed designs to the two problems I've identified above. I'll continue detailing my discovery and design process below.
Score Visibility
Unite doesn't ever display the number of points scored until the match has ended. The only time it displays any number is when a player actively scores, briefly flashing the number of points they just dunked in the goal.
This forces players to either keep a mental tally of points or be blindsided for the entire game.
To emphasize the frustration, imagine basketball players not seeing the score until the game is done. Instead of actual numbers, Unite opts to show one of five messages at the 5, 3, 2 and 1 minute marks that hint at the current score.
By not displaying the score, players aren't given the necessary tools to make informed decisions about their gameplay.
If there's 1 minute left on the clock and the game just notified you that "It's a close battle", should you and your team look to defend your base or mount an attack to attempt some last minute points?
In-game notifications
All in-game notifications currently display in the upper middle of the screen and stack near each other when there are simultaneous messages present. This includes quick chat, goal-related messages, points scored, and knockouts.
This creates banner blindness top of everything during gameplay, potentially causing players to miss crucial pieces of information.
A common pattern in other PvP titles is to display the kill feed in a separate screen location, generally top right.
Frequently seeing the same teammate or enemy in the feed would signal that the team is doing something right or requires a new strategy.
Points scored are still front and center as it's tied directly to the win condition.
Accumulated points
Taking out Pokemon net points for scoring. Players have a maximum amount of points they're allowed to hold at any given point. Excess points will drop on the ground in the form of yellow spheres for other players to collect, a common recurrence in my games.
I virtually conducted remote research on 5 players during their gameplay.
When asking them to look away and state the number of points currently held, none answered correctly. None of them answered correctly when asked how many points wild Pokemon granted.
Temporarily displaying points recently earned will increase awareness on the number of points earned when taking down wild Pokemon. Placing this message near the total points held will draw the eyes to incentivize scoring while reducing the instances where excess points are dropped.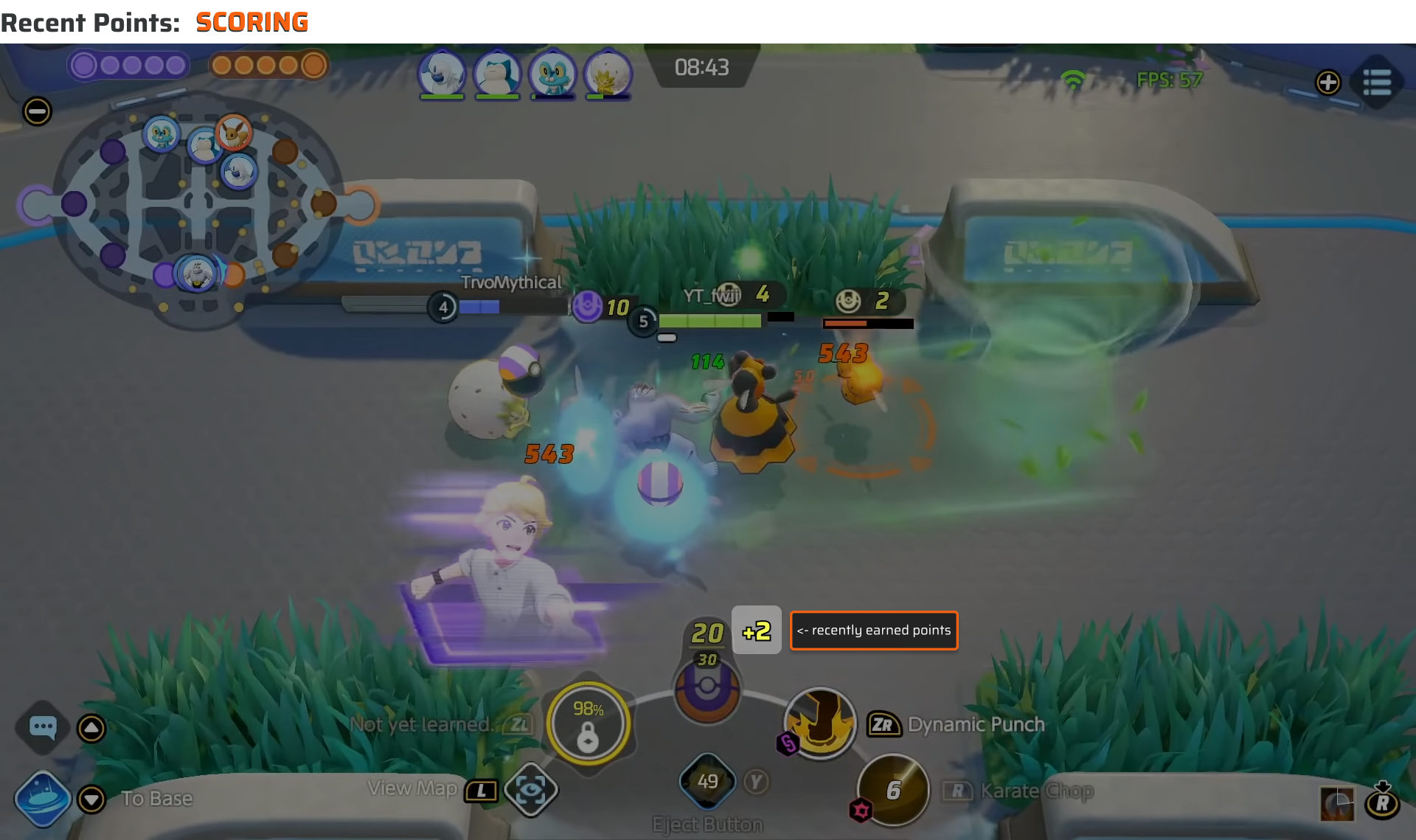 minimap
The minimap provides at-a-glance information for players to keep stock of the game's current landscape such as teammate and enemy locations, wild Pokemon (which grant points for scoring and other buffs), and blue/red spawn camps that grant players temporary bonuses. Panning your camera to see other areas of the map is slow and cumbersome in this game, giving even more weight to the minimap.
Two areas of opportunity where the minimap could reduce the need for camera panning:
1. Blue and red camps have different spawn locations depending on which side of the map you're playing (varies for each game). Currently, the minimap doesn't indicate any difference between the buffs.
Showing unique icons for blue and red help reduce cognitive load and allow players to plan their map rotation accordingly.
2. Each goal displays its remaining health underneath, but this requires players to pan the camera over to check each goal one by one.
Displaying the health on the minimap would allow players to stay focused on their gameplay and execute offensive/defensive strategies.
SCOREBOARD
The current scoreboard displays Pokemon levels, knockouts, assists, and ability icons. My redesigns continue to focus on information that quickly help players prioritize scoring and working as a team:
1.
Displaying individually scored points and the teams' total scores would help prioritize scoring and defending while keeping the total score out of mind during the core gameplay.
Individual points scored is a valuable stat for helping teammates score collectively and defend against opponents with a similar agenda.
2. Players can currently navigate through the scoreboard but it does not offer much more functionality beyond that point. Players must recognize and have prior knowledge of held item and ability icons to make full use of the current scoreboard's ability and item icons.
Allowing players to select and read information via tooltips on held items and abilities will offer insight to coordinate as a team or properly counter opponents.
Non-visual areas of frustration
Player experience spans beyond just the game's UI. After surveying the same 5 players that I used for remote testing, these were the top two concerns and my suggested solutions.
1. Announcer rework: The voice announcer currently calls out "what a goal!" for every goal scored worth 50 or more points, regardless of the team. This tends to create frustration or anxiety during the last two minutes of the game if opponents score multiple 50+ points back-to-back.
It would be worth exploring other informative voice lines such as when a goal is broken and removing the "what a goal!" line as it's only given in hindsight and offers no actionable insight.
2. Respawn timers: Generally across MOBAs, respawn timers increase proportionally with how long the game has progressed to punish players for dying at the later stages when there are more team-based objectives on the map. This loosely applies in Unite, although it also factors in individual player performance. The game punishes high-performing players who have a high kill/death ratio by increasing their respawn timer.
Rather than singling out good gameplay, their opponents should be better rewarded with additional experience received when taking them down.
Respawn timers can continue to increase overtime across the board to incentivize high risk/reward but only by factoring in the time left on the clock.